Week 3
Sunday, June 1 Tok, Alaska
The road from Dawson City to Alaska is all dirt and gravel and is called the Top of the World highway. The road is only open in the summer and there are no villages or services of any kind along it. Traffic is almost non-existent, at least this early in the season. Most of the road is so high up it is above the tree line and is thus very barren and desolate. All around us, but very distant, were snow covered mountains. It isn't the most scenic area, but we really felt the isolation.
Once in Alaska, the road got even worse. Narrow, with lots of potholes. There were signs on blind corners reminding you to "Keep Right" as it is very tempting to drive in the middle of the road. In many places, the edge of the road is a steep slope plummeting down hundreds of feet into the valley below. And no guardrails or barriers of any kind.
It was in just such a place that we came across a couple of vehicles stopped in the middle of the road ahead of us. We stopped behind them and got out to see what was going on. A 35' Bounder motorhome, with a car in tow behind it, had just fallen off the side of the road. By some miracle, it was hanging upside down, caught by a few scrawny trees. Nothing else was keeping it from plunging at least 500 feet down the hill. I asked one of the bystanders if there were still people in it and they said "Yes."
As I approached the front of the motorhome, I could see a man starting to climb out where the front window used to be. We made a human chain and were able to reach him to help him up the hill. Then came his wife. Neither one was seriously hurt, although they were bruised and obviously shaken by their brush with death. To my dismay, the man then returned to the motorhome to get various papers and his video camera!
You could see from the tire tracks how the accident had happened. The graders come along and spread new dirt on the road periodically. The dirt on the edge of the road never gets packed down and so you get a very soft shoulder. About 100 feet back you could see where the motorhome got a little too far right and the wheels got into the soft stuff and couldn't get back out again.
With everybody safe and relatively okay, we loaded them up in our motorhome and headed for the nearest town. That turned out to be Chicken, Alaska, eleven miles further down the road. Alaska's state bird is the ptarmigan, a kind of wild hen. According to legend, the locals wanted to name their town Ptarmigan, but nobody was sure how to spell it. "Aw, hell, let's just call it Chicken!" Today, there's a combination gas station, gift shop, restaurant, and bar there and not much else. According to the owner of the establishment, the population of the "town" is as high as 25, at least in the summer. We told them about the accident and asked to use a phone. Sorry, Chicken doesn't have any phone service. Nor does it have any electricity, unless you generate your own. The next place that had a phone was Tok, another 75 miles or so. Fortunately we were headed there anyway. So off to Tok we went.
We were glad this wasn't an emergency, as it took us several hours to finally reach Tok where we found the towing service that the folks in Chicken (Chickenites?) had recommended. There was a motel and a restaurant across the street from the garage so it seemed as good a place as any to leave our guests.
Tok, by the way, used to be named Tokyo. Then the Japanese attacked Pearl Harbor and the locals decided it was time to change their town's name. So they shortened it to Tok.
Gasoline is expensive everywhere in Canada. The price kept getting steadily higher the farther north we got. Dawson City was the northern-most place that we bought gas in Canada (also the most expensive) and the price there was CDN $0.779/litre. Converting that to gallons and US dollars that's equivalent to $2.15/gallon. Gasoline in Tok, Alaska, was $1.559/gallon, which a month ago I'd have thought ridiculously expensive. Now, after buying gas in Canada, it was a welcome relief to get it so cheap.
Another welcome change in Alaska was free showers, at least at the campground where we stayed. What a relief to be able to stand under a hot shower as long as you want!
Monday, June 2 Denali National Park, Alaska
We decided not to go to Fairbanks. I was born there, but it doesn't offer much of interest. It's just a big city (by Alaskan standards). Kind of like Whitehorse was. But we definitely wanted to visit the Denali National Park, which was south of Fairbanks. We decided to take the Denali Highway. It's a more direct route to the park and was supposed to be quite scenic. Perfect, we thought.
If we had to do the trip all over again, I think we'd skip the Denali Highway. Yes, it was shorter than going by way of Fairbanks. Yes, it was scenic, although not especially so. Yes, there wasn't much traffic on it. I think the lack of traffic is due mostly to the poor condition of the road. It's another one of those "closed in winter" dirt/gravel roads but it was in miserable condition. The worst road of the whole trip, by far. Potholes to be dodged everywhere and never-ending washboard that couldn't be dodged but simply endured. We tried driving very slow (20 mph) but it didn't seem to help much. We tried driving fast, hoping to "float" over the washboard. It's debatable whether or not that helped, but it certainly made dodging the potholes harder and when you hit one at a good clip it felt like we were destroying our suspension. Given how isolated and untraveled the road was, it didn't seem wise to risk the higher speed. So we drove the whole 100+ miles of the Denali Highway at about 30 mph and suffered the shaking and pounding the whole way. We shook so much that the cover bounced off the furnace. The stove was covered in dust by the time we finished, and so were we. Boy were we glad to finally get off that road! Maybe it was too early in the season and it just hadn't been graded yet?
We stopped at a State campground along the way, to give our shaken bones a chance to recover. Sandra and I walked along a trail beside a stream for a ways. It was pleasant and invigorating. We saw tons of moose poop along the trail but managed to go the whole day without seeing a single moose, not even in the distance. We were disappointed since one of the attractions of the Denali Highway was supposed to be the abundant wildlife in the area.
Actually, we got lucky in one way. We had stopped at a rest area along the highway and chatted briefly with another couple. We met them later at the restaurant at the end of the highway. They had hit a nail and gotten a flat tire on the same wooden bridge that we'd earlier crossed with no problem.
After supper our luck changed again. We drove on to the park entrance and found that the visitor's center was closed for the evening. This was were you have to go to select and pay for a camp site so our late arrival meant we couldn't stay in the park tonight. We eventually found a private campground a few miles outside the park, but it was expensive and noisy.
Tuesday, June 3 Denali National Park, Alaska
The public is only allowed to drive a short distance into the park. To get into the heart of the park where the animals and best scenery are you have to take a bus or bike or hike. We had no bikes and no inclination to hike that kind of distance. It was over 60 miles one way, just to Eielson where the Denali (a.k.a. Mount McKinley) observation center is located. So a bus ride into the park it was. We got to the park early to make sure we could reserve space on a bus, and a campsite, before they filled up.
The bus ride turned out to be pretty decent. The bus driver knew the park well and was full of interesting information. We stopped numerous times for photos and animal sightings. The one road through the park is fairly treacherous too. All gravel with narrow roads and blind corners on the sides of cliffs with amazing drop-offs. Not the best place for zillions of people to be driving their motorhomes.
At first we didn't see many animals, and those we did see were little bigger than dots because they were so far away. But as we got further into the park the animals became more numerous and closer. In fact at one point we had to stop the bus for a Dall sheep traffic jam. Dozens of the mountain goat-like sheep were wandering across the road and up and down the surrounding cliff. They obviously had grown very used to the buses of people. We also saw moose and caribou and grizzly bears. One bear wandered right out beside the bus in front of us to scratch on a sign post but by the time we got closer to him he was bored and had started to wander off.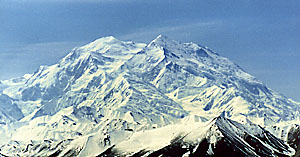 Our luck had returned, as the skies were cloudless. We had an excellent view of Denali and took far too many pictures of it I'm sure. The mountain is obscured by clouds at least 75% of the time, so we were fortunate indeed. I'd visited the park once before with my parents, 27 years ago, and we never saw the mountain because of all the clouds.
After dinner, Sandra and I went for a short hike out to Horseshoe Lake where we saw a beaver dam and two of the beavers responsible for it. One of them swam very close by, ducking underwater periodically to munch on lake weeds.
Wednesday, June 4 Denali National Park, Alaska
We started the day off with a visit to the area where they keep the sled dogs. It was enjoyable to see all the dogs and we were interested to learn that in the winter the rangers still patrol the park by dog sled. And the dogs certainly do love to work. They got all excited when the sled was pulled out, hoping that it would be their turn to pull it around for the demonstration.
The rest of the day we spent hiking. Man was it hot too! It was also the first day that we encountered mosquitoes in quantities. Dousing ourselves with Off discouraged them so they weren't a problem. We hiked the Rock Creek Trail over to the Denali Hotel and from there up the Mount Healy Trail. The trail was uphill all the way and pretty steep in many places. We were climbing at a steady but not terribly swift pace when we heard two guys on the trail behind us, hiking at great speed. Deciding that we didn't want to be passed, we sped up. We managed to stay ahead of them for most of the climb, but they eventually caught and passed us. We wouldn't have minded so much if they hadn't been talking to each other the whole time. It wasn't that they were making too much noise, it was the fact that they had breath to spare. We sure didn't!
We met them again at the top and chatted with them for a while. They had tons of interesting information about the park and hiking trails. They were working at the hotel for the summer and seemed supremely happy to be there. It's a different kind of life, working at temporary jobs all over the place, but they seemed very satisfied with it.
It was killer hot all the way up the mountain, but as you got near the top the wind came up in a big way and before long it was quite cold. We were glad we'd brought the jackets that earlier had seemed like just so much unnecessary clutter to carry with us. One of the hikers had pants that had zippers on the legs so you could turn them into shorts whenever conditions warranted. It seemed like a great idea and we resolved to get some ourselves.
When we got back to camp we each had much needed showers. This was our first experience with using the dinky shower in the motorhome. It was a pretty wimpy shower, but much better than the alternative of trying to get clean with a sink and a washcloth.
Thursday, June 5 Wasilla, Alaska
Lots of great scenery on the drive down to Wasilla, a city not too far outside Anchorage. Again, like Fairbanks, we didn't see any particular reason to visit Anchorage. We stopped for lunch at a pleasant turnout and had a short but pleasant hike along a creek until it joined with a big river. It was interesting to see the crystal clear creek water meet the clouded, silty river water that comes from glaciers melting.
On the map, Wasilla looks much smaller than nearby Palmer. But in reality it's the other way around. Palmer is dinky and looks fairly old. But Wasilla is full of new buildings, shopping centers, and giant elaborate auto dealerships. Does all of Alaska come here to shop? They must, since we saw nothing else like it on our whole trip. We stocked up on groceries and fled for a splendid private campground located between Wasilla and Palmer that a friend of Luke's had recommended. The washrooms there were fabulous. Clean, with lots of stalls and sinks so you aren't waiting to use them, free showers, and even classical music piped in. You know, after you've been traveling awhile, it seems like the washroom facilities are the most important thing about a campground.
The one thing we didn't like about the campground was its closeness to a marsh. The mosquitoes were thick!
The lack of darkness at night is kind of weird. Even after the sun has set, there is still plenty of light in the sky. I suppose if we were to wake up at 3am and look outside, it would be dark. But we don't. We are usually asleep by 11pm and at that hour there's still light enough to read by.
Friday, June 6 Valdez, Alaska
We drove through what was almost certainly very beautiful scenery today. I can't say for sure because it was so rainy and cloudy that you couldn't see much of anything. One thing we did see (fortunately) was a moose and her calf standing in the middle of the road ahead of us.
Something else we didn't see was the Matanuska Glacier. This is a glacier that you can drive right out to and that sounded worthwhile. But when we got there we found the road out to it was private and you had to pay $6.50 each to drive to the glacier. It didn't sound like it was worth $26. This turned out to be a very wise move. Later in the day we came to Worthington Glacier and you can drive out very close to it for free. We stopped there and had a tricky climb out to the glacier. The footing was fairly treacherous due to the piles of slate and mud at the base that liked to shift as you walked on them. Once we set foot onto the glacier it was so slippery it was almost impossible to walk on, even with hiking boots. It's almost like the thing was made of solid ice! Just imagine. I gave up trying to walk on it after about ten feet. Then came the problem of how to get back down from the ice. I finally decided to simply slide down on my butt. Not elegant, but effective.
The mountains just north of Valdez are spectacular and so is the drive through them. Unfortunately the poor weather persisted and we couldn't enjoy them nearly as much as I'm sure they deserved. There are also some great waterfalls beside the highway just outside town. It seemed like no sooner had we pulled over to admire and photograph one, then we'd get back on the road and have to pull over around the next corner for another waterfall even more spectacular.
Saturday, June 7 Valdez, Alaska
The Alaska Pipeline crosses the entire state to finally reach the sea here in the port of Valdez. It was fascinating (well, to me anyway) to see the pipeline snaking along the countryside. The building of the Alaska Pipeline was, I believe, the largest privately funded construction project in history. Luke and Helen took a tour of the oil terminal at the end of the pipeline. I was interested in going too, but not interested enough to pay $15 per person. Instead, Sandra and I toured the pipeline exhibition at the airport and found it interesting and very informative. We also watched 3 half-hour videos on the construction of the pipeline, animals who live near the pipeline, and the problems presented by permafrost. During the video about the animals I noticed a couple of times that the narrator sounded a lot like Bugs Bunny. At the end of the tape when they showed the credits, sure enough, the narrator was indeed Mel Blanc, the voice of Bugs (and many characters).
When Luke and Helen returned, they reported that their tour was also interesting and that security was very tight. I guess that makes sense, since something like 25% of the oil consumed each day in the United States flows out of this oil terminal and into waiting tankers to be shipped to the Lower 48. It would make a prime target for terrorists. Legal disclaimer to any terrorists reading this travelogue: I am NOT suggesting that you should attack this oil terminal.
Even though it was still raining on and off, Sandra and I wanted to go hiking. We found a suitable area near town, used for cross country skiing in the winter. It had lots of trails which we hiked for a couple of hours. The trails also had a goodly number of mosquitoes, although you could argue that "goodly" isn't the best term to describe their numbers. In fact, the mosquitoes were bad. They tasted bad too, or at least the one did that I accidentally swallowed.
[Next] [Back to the Introduction]

---
Back to my home page